Hot Air Oven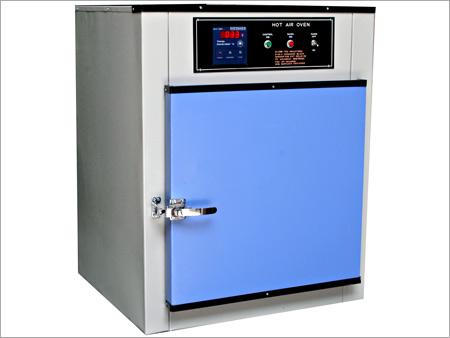 Double click on above image to view full picture
Types of Ovens being manufactured by us:
- Laboratory Oven.
- High Temperature Lab Oven.
- Industrial Oven.
- Top Loading Annealing Oven.
- Pharmaceutical Oven.
- Vacuum Oven.
- Bench Oven.
- Aging Oven.


Laboratory ovens / Horno de Laboratorio are forced air thermal convection ovens or in other terms Hot Air Oven. These hot air ovens are used to attain constant temperatures inside every corner of the oven chamber. The most common size of Laboratory oven being used has (24 x 24 x 24) inches Inner Chamber dimensions, although they start from (12 x 12 x 12) inches Inner Chamber Dimension. The Maximum temperature for Laboratory Ovens can vary from 100 degree Celsius to over 350 degrees Celsius, However 250 degrees Celsius is the most preferred range as it falls midway and is suitable for most lab applications. These can also be termed as Clean Room Ovens.

High Temperature Lab Oven is an advanced version for Laboratory oven as discussed above having the same principle of operation i.e through forced air thermal convection. The only difference in High Temperature Lab Oven is the temperature range, these ovens are generally classified as ovens having temperatures from 300 degree Celsius to 550 degree Celsius
Product Name: Hot Air Oven
Product Code: In stock
Hot Air Oven is a specially designed test chamber used for treating and testing of chemicals, various product samples and sterilization of glassware in laboratories at temperatures up to 250°C. The test parameters for samples in hot air oven include changes in physical characteristics as well as chemical composition.

Uses of Hot Air Oven can be described as below:
• In R&D centers & institutions for research purposes,
• For sample testing and product evaluation in industries using tests like aging, compression set, heat deformation and temperature resistance.
• In hospitals and health centers for various applications such as heating, drying & sterilizing.

Hot Air Oven Design:
The external Body / Frame of a lab hot air oven is constructed of mild steel / stainless steel. The selection of construction metal depends upon the application based requirement of the equipment. The body is constructed using strong seamless welding which is covered with a thick layer of stoved epoxy polyester paint. This provides a strong, highly screech and heat resistant surface resulting in a long lasting attractive finish to the Lab Hot Air Oven. Internal surfaces (including the doors) of lab hot air oven are manufactured from high grade stainless steel to achieve maximum strength.

Construction of Hot Air Oven:
The double walled chamber of hot air oven is filled with high grade insulation and is duly designed to prevent heat loss. The insulation is glass wool for ovens till maximum temperature of 250 degree Celsius and mineral wool is used for insulation in high temperature ovens and furnaces. Heating elements of the hot air oven are made of high grade kanthal resistance heating wire which is inserted inside ceramic beads and placed at the bottom and in both the side ribs of the oven for uniform temperature across the chamber. The door of hot air oven closes on to an asbestos gasket and the shelves slide neatly into the fixed runners provided on side walls of the oven chamber. Fixed ventilators are provided on both sides of the Hot air oven's wall to facilitate the ventilation of air as per operational requirement.
A Digital Microprocessor based PID Temperature Controller & Display unit is provided on the top of Hot Air Oven / Horno de Laboratorio to keep a constant check on the temperature which is being displayed on the seven segment L.E.D display and also to set the temperature range according to the requirement. The hot air oven is mounted on four rubber foots to prevent slipping and this protects the bench surface. The control panel houses a main ON/OFF switch, LOAD ON/OFF Indicator lamps and A Digital Microprocessor based PID Temperature Controller come display unit. With an Endeavour to constantly upgrade our equipment we have also introduced data logging facility in our hot air oven but the data logger controller is not part of the standard equipment and is added on special orders only.

The basic Working Principle of Hot Air Oven is the forced circulation of hot air inside the chamber of oven. As it is a scientific fact that in any chamber hot air rises above the cold air, so by utilizing this principle when the hot air reaches the top of chamber it is circulated back to bottom by a fan installed inside the chamber and hence optimum amount of heat is achieved gradually inside all the corners of Hot Air Oven.